Thanks for the Referrals
Referrals are a key part of my business.  I'd like to thank everyone who as referred business to me.   I provide solutions to businesses and individuals based on the customer's needs and resources available.  I also sell EXEDE (now ViaSat) satellite internet.  Of the internet options currently available, it can be a solution for your needs, but sometimes it isn't.
King William County is currently looking into trying to bring in a better solution than what's currently available.  Some folks say the county is wasting money since the solution is already available, but I tend to disagree.  There currently is no truly unlimited broadband options available in King William.  Gigabit speed internet is available and being advertised in the city.  I'm not expecting anything near that speed to be available in our area in the near future, but hopefully we can get something in the 50 Mbps range.
Until then, I will continue to sell EXEDE/ViaSat if that is the best solution available for my customers.  Many times I refer them to another provider.  Please feel free to contact me with any of your computer or Internet needs.
Armistead
This is a quick overview of what Internet Services are available in King William and King & Queen Counties in Virginia.
Satellite Internet

The benefit of Satellite Internet is that it's available everywhere!  The exception is the few people how have trees or other obstacles preventing them from 'seeing' the satellite out in space.  Some people have contacted their TV provider (DISH or DirecTV) and have falsely told it's not available.  The reason for this misinformation is that they do not have a vendor in the area that they're partnered with.  A disadvantage of Satellite internet is the latency or the delay it take for data to bounce off the satellite and back to earth.  Online gamers and people who work from home with remote desktop apps are the most affected.  The normal internet user usually doesn't notice this aspect. There are only two providers of the service EXEDE by ViaSat and HughesNet.  Both providers have residential and business plans available.  Top download speeds are 15 Mbps. The customer usually provides their own router that connects to the ISP's modem.  This gives the customer wired via Ethernet and a WiFi (wireless) access.
Update March 2017 – HughesNet The upload is still under 5 Mbps depending on your plan & they offer bigger data plans.
HughesNet launched their ExhoStar XIX satellite on December 18th, 2016 so their Gen-5 product is now available in our area.  25 Mbps download speeds 3 Mbps Upload and data plans 10 to 250 GB.  Click Here for the GEN5 press release.  
ViaSat, EXEDE's parent company, successfully launched their satellite ViaSat-2 on June 1, 2017 by Arianespace from the Guiana Space Centre in French Guiana. The launch date was originally set for April 25, 2017 but was delayed due to social unrest affecting the spaceport area. https://www.viasat.com/news/viasat-2-successfully-launched
Read PC Magazine's article on EXEDE and ViaSat-2 for more information.
If you decide that EXEDE internet by ViaSat is for you, please order it from me – THANKS
Call 804-874-3294
---
Cellular Internet
Internet services can be provided through your wireless cell phone carrier.  Verizon and AT&T seem to work the best in our area.  You may have luck with a discount carrier if you're near one of their towers.  Cellular access is usually a WiFi connection using a Hotspot (via a cell phone or Mobile Hotspot), MiFi, or JetPack. Verizon offers Home Fusion which is a permanently mounted cellular receiver and router.  One of the benefits of cellular internet is that you can bundle your data plan and share it with several devices.  A disadvantage is that the service will vary depending on how well your devices can connect to the nearest cell tower.  Service tends to be worse in the Summer when the leaves are on the trees and block or reflect the signal.
*** This can be a good option if you get a good signal at your place because sometimes it's cheaper to add to your existing service by adding a mifi/hotspot or similar device and adding more data to your plan ***
---
Verizon DSL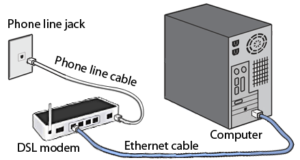 Verizon offers DSL (Digital Subscriber Line) service in the Central Garage Area.  DSL is delivered over telephone lines and has distance limitations from the Central Office (CO).  The general area that service is available is from the stoplight on Aylett on RT-360, Venter RD at RT-30, The Razway Exxon on RT-30 and Tommy's Produce on RT-360.  That's the general area, but it also depends on the service lines in your area.  The benefit is that it is an unlimited data plan.  Download speed is up to 7 Mbps in our area.  It tends to work best near the Central Garage intersection of RT-360 and RT-30.  The service degrades when it gets close to the boundaries.   DSL service is generally bundled with a land line (POTS) phone service.
In January 2017 I spoke with a local Verizon tech.  He said that Verizon is not currently installing this service.  I've also heard the same thing from customers trying to get DSL service in our area.  If you're an existing Verizon DSL customer in the Central Garage area don't cancel it to try another service, because you may not be able to get it back.

*** Update February 2017 – Had a Business Client call and get service because they're a business – I haven't heard of any residential people getting installed recently ***
---
Wireless Broadband Internet in King & Queen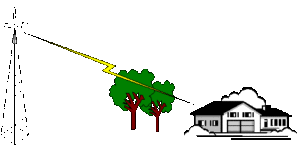 In 2013 the King and Queen County Wireless Service Authority and Gamewood Technology Group, Inc. partnered to bring residents of King and Queen County Virginia high-speed Internet service using wireless technology.  They based on your proximity to their towers you can get plan with speeds from 1/2 Mbps to 6 Mbps.  They offer unlimited data plans.  They recently completed the first phase of their system updates.  They plan on improving their system in the first half of 2017 with the second phase.  The updates should provide more bandwidth on the back end so the customers aren't slowed down when traffic peaks.  They do not plan on offering any higher speed plans at this time.
For more information see their website: kqva.net   Here's a link to the article on the system upgrades in the Tidewater Review
Update March 2017 – Maintenance work on tower sites begins March 16, 2017
Work will begin on the County's microwave backbone starting with the Newtown Tower on March 16, 2017 in the afternoon. There will be an outage of approximately one hour on that tower. The work on the tower sites will continue through March 24, 2017. The microwave backbone will be off intermittently throughout this period resulting in outages to customers, starting with Newtown and working all the way back to the Shacklefords (South) Tower.
---
What's NOT Available and What might be coming
Unfortunately there are no ultra high speed fiber/cable options like Comcast Xfinity or Verizon Fios available in our area.  Comcast does offer a Basic TV service in the Aylett/Central Garage area.  The state completed a broadband survey – click HERE to see the results.  King William completed a broadband study in May of 2016.  Representatives from Virginia Tech and the Virginia Center of Innovative Technology presented a broadband study to supervisors.  Click to read the Tidewater Review's article "King William broadband study complete".
Verizon FiOS won't be in King William.  Here's a response from a Verizon official when the county inquired about FiOS availability:
Thank you for your interest in enhanced (high speed) internet service.
At the launch of Fios in 2004 Verizon made specific commitments on how much it would invest ($23 billion) and how many homes it would pass across its footprint (~18 million) with its fiber-to-the-premise network.  With the franchise agreements that Verizon has secured and the build commitments that have been made as a result of those agreements, Verizon will meet those benchmarks.  As a result, Verizon is not seeking additional Fios cable franchise agreements with other jurisdictions at this time.
Verizon is focusing its resources on completing and maintaining our Fios networks in those areas where we have obligations remaining under current franchise agreements. Verizon executed its most recent franchise agreement in Virginia in 2009 and currently has no plans to pursue new agreements.  Nor are there any plans to offer high speed (enhanced) internet services in King William County at this time.
Thank you.
Doug Brammer  State Government Affairs – Verizon